"Onsenism" declaration of Kusatsu Onsen
We, the people of Kusatsu Onsen, are committed to carefully looking after the unique qualities of our hot springs. We take great pride in the hot spring water sources that flow freely from such an ample supply and the strong acidity of the water has been shown to have beneficial therapeutic effects. Renowned since ancient times, Kusatsu Onsen is well known as one of the three most famous hot springs in Japan. It is here you will find the ideal hot spring.
Kusatsu Onsen boasts: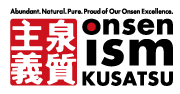 With the aim of meeting the expectations of all visitors to Kusatsu Onsen, we will continue to provide these hot spring assets that nature has bestowed on us. By upholding our philosophy of "onsenism," we hope to ensure that everybody can always enjoy a "good bath."
Kusatsu Onsen was voted number one for the 20th consecutive year in Kankokeizai News Corporation's nationwide hot spring ranking.
---