Unrivaled output
Kusatsu Onsen has the greatest natural output of any hot spring in Japan. The source of this abundant supply of spring water is Mt. Kusatsu-Shirane (2,160m). Kusatsu Onsen is rightfully proud of both the quality and quantity of its waters.
---
Unparalleled quality and lavish supply
In Kusatsu, more than 32,000 liters of spring water gush out every minute—enough to fill some 230,000 barrels every day. Trails of steam seen rising into the air all over the town further enhance the ambient atmosphere for the visitor. Most of the Japanese style inns, hotels, and hot spring facilities in Kusatsu provide free-flowing hot spring water straight from the source for guests to enjoy.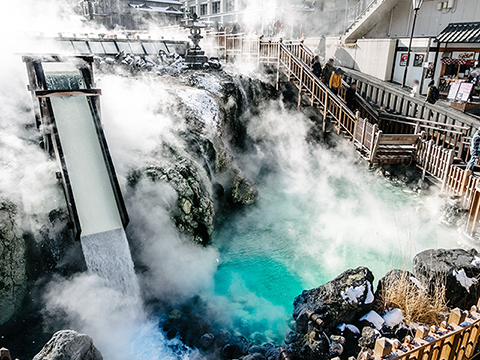 As much charm as there are bathhouses
Thanks to its plentiful supply of hot spring water, Kusatsu has numerous facilities richly imbued with atmosphere. For instance, the open-air bath Sainokawara Rotenburo offers beautiful scenic views and a real sense of spaciousness; Otakinoyu lets bath-goers enjoy several tubs at differing temperatures; and Gozanoyu lets visitors get an idea of what bathing culture would have been like in centuries past. Despite these different characteristics, no matter where you go in Kusatsu, all of the baths are brimming with the blessings and tranquility of nature, just like the hot springs themselves.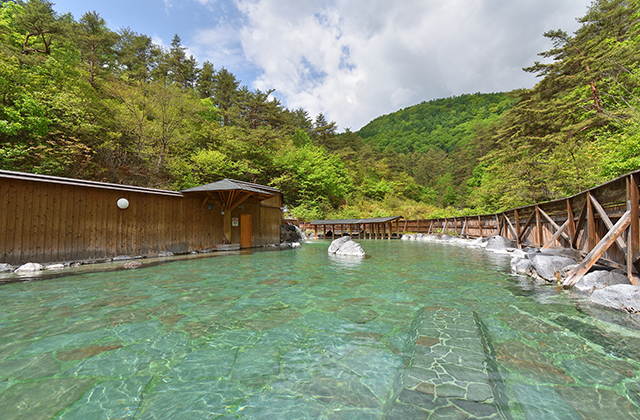 Yukawa River, a flowing hot spring source
Kusatsu has six main hot spring sources, as well as many other smaller ones too numerous to count. The most unique of these is Yukawa River, a first-class river alongside which hot spring water gushes forth from underground. The acidic hot spring water creates wisps of steam that float through the town. It is no wonder that people say Kusatsu has more hot springs than fresh water.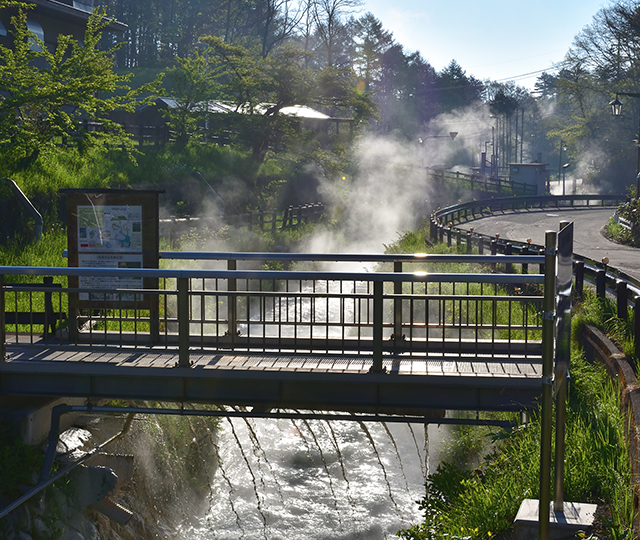 Top five hot spring resorts by amount of discharge
1st Kusatsu Onsen (Gunma)

2nd Beppu Onsen (Oita)
3rd Okuhida Onsen (Gifu)
4th Isawa/Kasugai (Yamanashi)
5th Nasu Onsen (Tochigi)
Source: Japan Onsen Association, 1995
Amount of discharge refers to the volume of water a hot spring yields per unit of time. The greater the discharge the more ample the supply of hot spring water. Smaller springs only bring forth a few liters every minute, while more powerful hot springs like Kusatsu yield 32,300 liters per minute. The amount of discharge heavily depends on topographical features, the number of sources, the type of source, and other factors.
Per-minute discharge of Kusatsu's main hot spring sources
Source
Temperature
pH
Output
(liter/min)
Yubatake
52.7
2.1
4,040
Shirahata
52.2
2.1
659
Sainokawara
44.9
2.1
1,073
Jizo
49.9
2.2
252
Nikawa
48.5
2.1
817
Bandai
94.5
1.6
6,200
Others
-
-
18,961
Total
32,300
*Approximately 46 million liters per day (equivalent to some 230,000 drums)
Source: Kusatsu Town data catalog